Click here to join Home Tester Club to become eligible to receive FREE HAIR CARE PRODUCTS to rate and review!
All you have to do is complete your profile and register! You only have to complete your profile once, and then you're always eligible to register for product trials.
We give away free products all the time so don't miss out and SIGN UP NOW!
If you have questions, reach out to us at australia@hometesterclub.com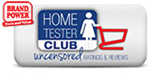 Send to a Friend Tweet ThisShare on Facebook

Australia Expires: